Grayson Thomas
A US law firm based in Charleston, South Carolina has been able to manage its rapid growth in 2014 with the help of DocMoto.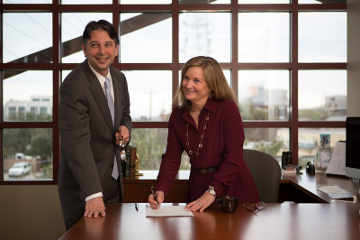 Grayson Thomas – a business and transactional firm dedicated to the healthcare, academic and technology sectors – was formed in late 2013 by partners Clay Grayson and Lisa Thomas to offer an integrated focus of legal services to hospitals, universities, healthcare providers, and technology companies.
Opting to use Apple Mac for its IT platform, the new firm was therefore faced with finding an effective method for managing high volumes of documents. Not to complicate the matter further, Lisa and Clay chose to use this transition to jump from paper-based file storage to a paperless practice.
Partner, Clay Grayson, explains: "We wanted to use Mac, particularly as it's effective for presenting materials to clients. But our work is very document intensive and most document management software systems are aimed for PC, not Mac-based practices".
"With other law firms, Lisa and I have seen the amount of space - whole corridors and rooms - taken up with file cabinets and boxes, and we realized we could hire another attorney instead of pay for square footage to store paper".
"We knew our document management system was critical for these key elements in our business plan".
After a few 'false starts' with other document management systems, their frustration led Grayson Thomas to find a native Mac solution: DocMoto.
Using the Cloud version of DocMoto was a more cost-effective option for Grayson Thomas, especially with the necessary security being in place. It has also given employees, greater flexibility to work anywhere while balancing home and work life.
Clay adds: "With DocMoto in the Cloud I can open any document while sitting in any meeting anywhere, and I can't tell you how impressive that is.
Overall, DocMoto has enabled Grayson Thomas to:
Work on documents in a team-based approach without creating different saved copies, while retaining the ability to track multiple versions by various authors.
Reduce costs by not having to acquire other software: as the DocMoto management system offers enhanced functionality, such as its comparison features.
Provide in-house training: DocMoto has become a teaching tool for new lawyers by enabling Grayson Thomas to create logical folder hierarchies to save template documents, contracts, forms and related educational and training materials.
Bring new attorneys and staff up-to-speed quickly: together with DocMoto tutorials, Grayson Thomas has distilled key DocMoto functions into a set of practice operational guidelines that means new attorneys and staff are working effectively within days, requiring less training and reducing costs.
Clay Grayson says: "We have integrated DocMoto into the way we practice. It has become part of our business method and as we develop our understanding of how to integrate it into our workflow, it's creating efficiencies that we didn't anticipate. We need this if our goal is to offer higher quality and value to our clients".
"DocMoto has enabled us to scale up our practice very quickly. That's a difficult proposition in a law firm unless you have a technology platform that works for your way of business".
"DocMoto has been much than a repository for documents: it's a native Mac solution that has lowered expenses in a way we did not anticipate and without which we wouldn't have been able to grow as fast".
"And in terms of customer service the DocMoto team are great. If I've got an issue, their response time is excellent and they are very helpful".