We've all been there. You've closed up shop for the day and settled into your favorite easy chair to waste time on your iPad. And then you realize you forgot that last task — securely sending the new draft you finished to your client. Thanks to the new DocMoto iPad app, you won't need to get up and go back to your desk. After a few quick swipes, you can get back to wasting time.
The Killer Feature
Secure document sharing has become essential for law firms in recent years. Clients increasingly feel uncomfortable using email for confidential documents, and state bars encourage law firms to use a secure portal instead of email. DocMoto has included a client portal for many years, eliminating the need for a separate product. You can even make the portal look like your website by changing the colors and adding your logo. The new iPad app includes full support for DocMoto's Create Share feature for sharing documents and folders with clients and others via this portal. As with the Mac and Windows clients, the iPad app lets you:
Require a password for portal access.
Set an expiration date for the documents you share.
Allow the upload of new documents and new versions by collaborators.
Show the version history and allow access to previous versions.
Manually revoke access anytime.
After selecting these settings, you can send the share link via email, text message, etc. "Our new iPad app is packed full of features that bring it on par with our desktop applications," says Managing Director Neil Cameron. "We are enormously excited about the possibilities it opens for busy lawyers and their teams. Killer features like integrated secure sharing with third parties is a game changer."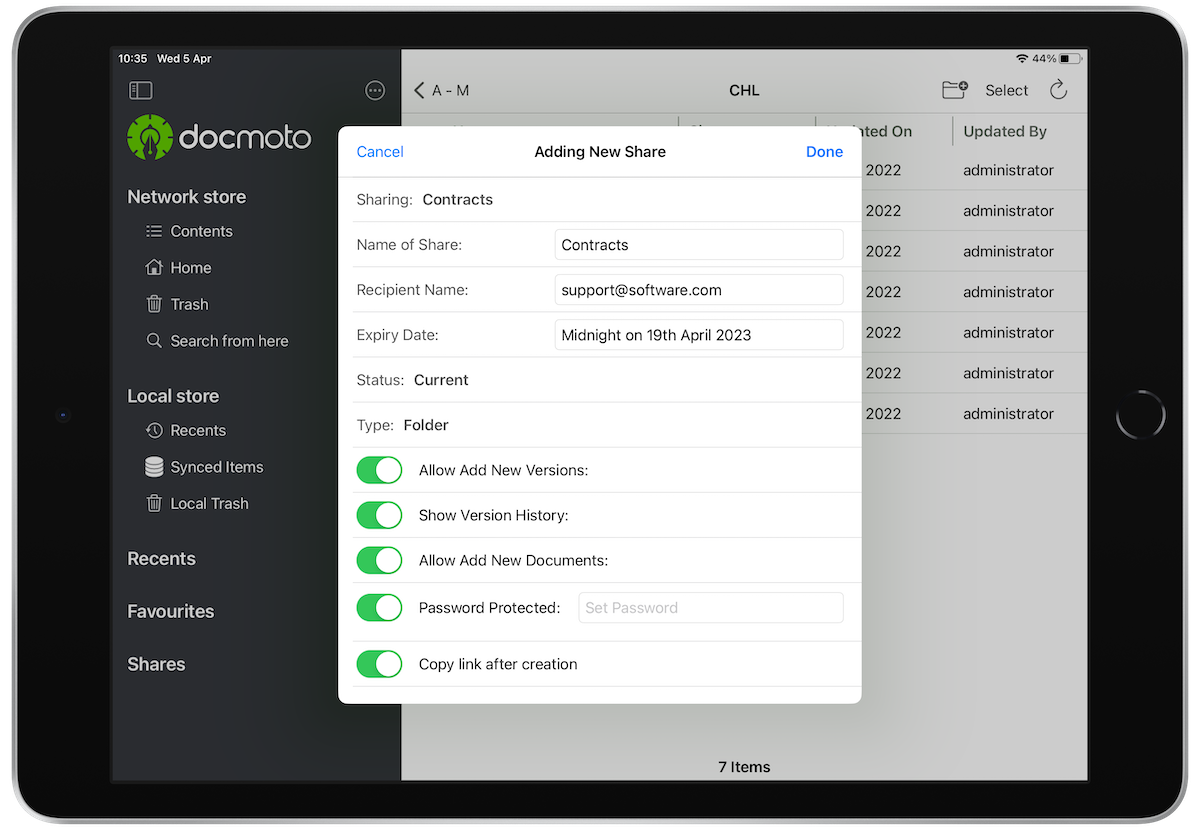 The DocMoto iPad app offers the same secure document sharing via the DocMoto portal as the Mac and Windows clients, including settings such as an expiration date.
Other Notable Features
The iPad app mirrors the Mac and Windows clients in other respects too. For example, the navigation bar offers quick access to favorites, recently accessed documents, and shares. Folder Templates let you create a preset group of nested folders for matters and other projects, including pre-populated documents such as an engagement letter. The app's search function lets you find documents by name or their content as well as parameters such as Check Out By and Version.
In addition to the iPad app, CHL Software has added several key third-party integrations such as the new one with Microsoft 365 that lets you open documents from DocMoto directly in Word and save new versions back. Integrations with Outlook, Gmail, and Slack work similarly, offering DocMoto access from within those applications for sending documents and saving received documents.
DocMoto organizes documents and folders by client and matter, and can generate Document IDs. In keeping with the times, it also supports tags for alternative ways to classify and access documents. In terms of automation, DocMoto includes document templates and document assembly in addition to the folder templates mentioned above. Granular access controls, audit tracking of all activity, and encryption enable you to enforce internal policies.
What Else Should You Know?
In response to customer requests, DocMoto recently added Single Sign-On (SSO) for logins, eliminating weak user-created passwords and ensuring that only authorized users can access DocMoto. All DocMoto clients support SSO, including the new iPad app.
This article was originally published in TopLaw, a network of popular email newsletters for lawyers and law firm personnel, including the award-winning TechnoLawyer newsletter.
To view the PDF version click here.